Polkadraai Farm is a popular venue for birthday parties, kitchen tea's, baby showers as well as corporate outings. Our complimentary playground areas for juniors and toddlers combined with our fun activities makes Polkadraai Farm the ideal party venue!
We currently have 3 party booths available on the farm and at the following times:
10:00 – 12:00

; or

14:00 – 16:00

.
Each party venue contains 3 large tables with benches which can seat approximately 24 people and there are also open areas in each party venue ideal for picnics or as a play area for toddlers and children.
The complimentary junior and toddler playground areas are visible from each of the party booths available.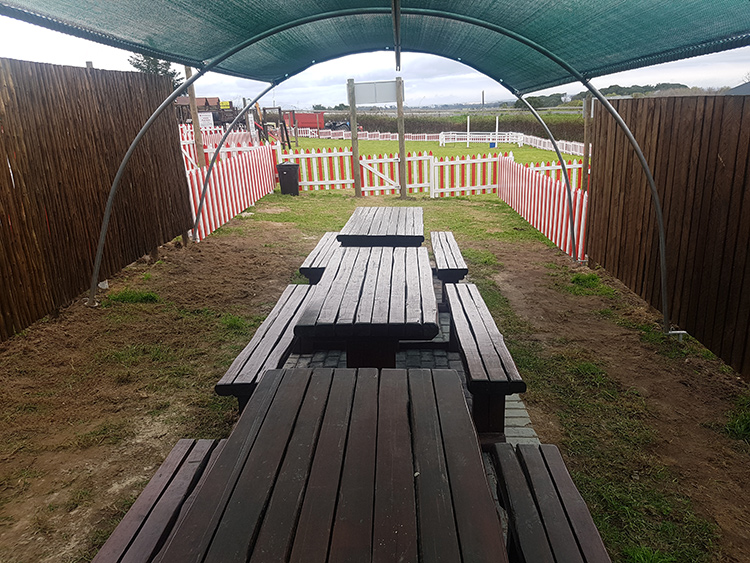 Rates
The party booking fee is R500 and is payable on the day of the party to the cashier in the farmstall who will provide you with the key for your party booth.
Please ensure you book early for your event so we can confirm availability!
For bookings, please contact the Polkadraai Farmstall on (021) 881-3303 to confirm / reserve your booking!!
Please bring your own décor to set up – we only supply the venue with tables and benches!
A party pack per child as well as party platters and a birthday cake is allowed into the party venue.
Our food court is open on all weekends and public holidays (except Christmas Day) from 9am-4pm and daily during the school/December holiday period.
The food court is unfortunately not Halaal or Kosher Certified however no meat products containing Pork are served.
Duration
The following party times are available daily, including weekends and public holidays but closed on Christmas Day;
10:00 – 12:00; or
14:00 – 16:00.
You may arrive 30 minutes prior to your party time slot to set up your décor so please stipulate which timeslot you require for us to plan availability on the day.
Operating Times
Our party booths are open daily including all weekends and public holidays (except Christmas Day) in the time slots listed above.